Main content starts here, tab to start navigating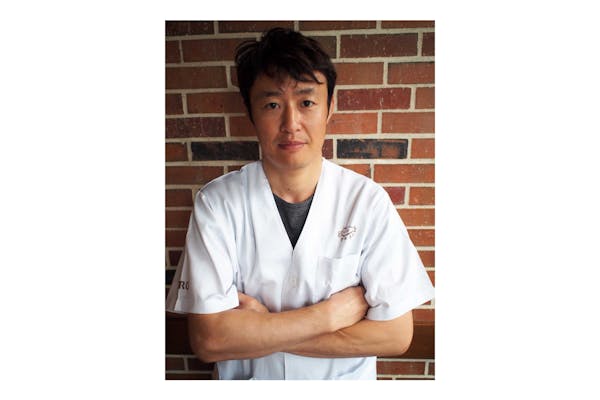 Yuji Sano
Owner
Yuji Sano began making Japanese food as a chef at the age of 18 in Japan, and opened his own restaurant when he was 33 in the states.
In his quest to master the art of sushi, he left his father's sushi restaurant also called "Taro Sushi" in Saitama, Japan. Because he says "It's a Japanese tradition among sushi chefs to be trained by someone outside the family, who will be harder on you, push you farther. Otherwise you will appear spoiled."
He says "There are a lot of cooks in Japan who know a little bit of general information, but when they come to the states, they're the ones who know more than Americans". He adds, "If I were to return to Japan again, I would not be a special at all". In 2000, he worked at Japanese restaurant in Lower Manhattan, until the events of September 11, 2001 forced its temporary closure. He moved on to few Japanese restaurants in Brooklyn, where the more intimate scale allowed him to begin building a loyal fan base, and remained until summer 2004, when he opened Taro Sushi, realizing a long-held goal.
On September 2010, he has successfully opened and moved to larger space in current location which is more organized and drawn by the welcoming atmosphere. It became Brooklyn dwellers revel in their newer hometown sensation. There is new sushi restaurant operated by him in Japan also coming soon.
Although his specialty is sushi, he points out that he also trained in the art of tempura for nearly a year, in one of Japan's many restaurants devoted exclusively to its preparation.
Our menu includes American-style selections, but his preferred style is nigiri or edomae, wherein elaborate presentations are eschewed in favor of simple, pure flavors.
"American-style sushi, it looks much fancier, and is more distinctively flavored. Japanese people likes mild white fish, but Americans prefer tuna, salmon, strongly-flavored fish, and spicy sauce," explains Sano, who tries to introduce his American customers to more traditional Japanese flavors thorough his choices.